Monsoon is the epic time to experience the region of Rajasthan. A scorching heat hit the area during May and June (also called Jeth ka Mahina in local terms), and after this, it comes out to be cool with the arrival of the rainy season. However, the story is not the same for those living in Jaipur because of heat winds and heat temperature don't allow them to go out of their homes. After this, the showers allow people of Jaipur to explore the beautiful scenarios around the city. Thus, be ready to travel India's most intriguing part by booking cheap flights from Florida to Jaipur and let the fun go on.
Well, amazing Jaipur has chosen some astonishing places for you to beat the heat in these monsoon showers. So, pack your bag and fulfill your wanderlust by traveling these places in the city-
Amber Maota and Watch Tower
Surrounded by mesmerizing Aravali's, this place is architecturally and naturally very embellished to augment your pleasure of rains in Jaipur city. Tourists can enjoy the monsoon weather from various sheds (or Chattri's in local words) constructed in the city. If weather and strength allow you to climb up to watch tower beyond the maota, you can enjoy the monsoon in wide angle panoramic view. Have some snacks and beverages to double your weather enjoyment.
Charan Mandir
Picking this place to visit during rain can be your unforgettable experience ever. Charan Mandir has a huge structure, located at Nahargarh, and is the only building situated in a forest area that gives a wide view of the whole region when you climb on the top of the temple. Traditionally styled heritage building in a lush green forest in monsoon is what traveler needs to explore after booking reasonable flights from Florida or any other place.
GaltaJI Temple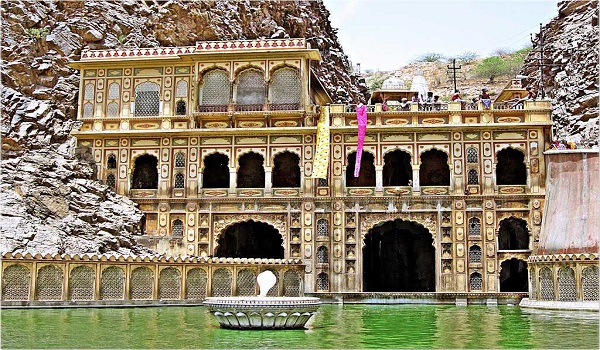 This is one of the oldest destinations of Jaipur to celebrate family time together. The temple has two kunds, which are filled with water after the rain due to naturally flowing water from Gaumukh. The road which leads to Galtaji from Agra-Jaipur highway is full of nature and the temple is known as Monkey temple among visitors. Enjoy the magnificent Jaipur old city by visiting here and booking cheap flight tickets to Rajasthan!
Nahargarh and Padao Restaurant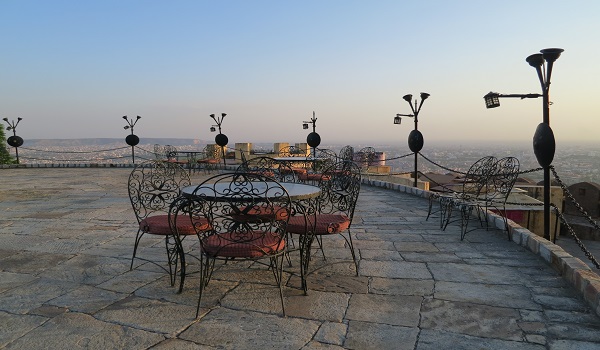 Nahargarh and Padao Restaurant is a wonderful palace to visit during the rainy season. From here, you can get a great view of Jaipur's old city and enjoy rainy weather at Padao restaurant in the palace. What more do you need when you enjoy seeing a superb view by just sitting in a restaurant and having your favorite drink!
Jal Mahal Walkway
While you visit here after booking flights from Brisbane or your boarding destination, you can enjoy hot and spicy bhutta prepared when ordered. A walk on the pathway of Jalmahal Ki Paal with your loved ones during monsoon weather can give you memories for a lifetime. Your thirst for travel needs something unique and special. JalMahal Walkway has it all for you through its wonderful scenery and fresh air.
Albert Hall Museum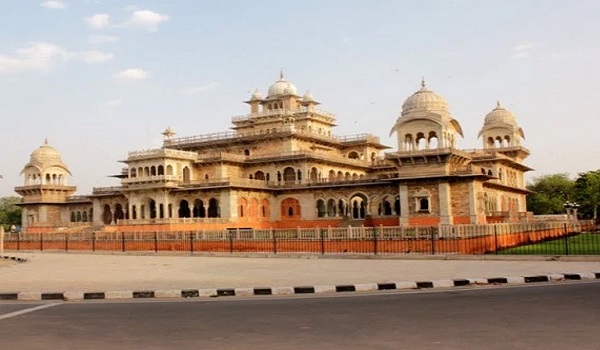 The oldest museum in Rajasthan, Albert Hall Museum is a classy example of Indo-Saracenic architecture, and has elegant stone ornamentation. It is Jaipur's finest museum, which is also known as State Museum of Rajasthan. The museum is a centre of attraction for imparting knowledge of ancient times of civilizations, motivational artists' work, and traditional Indian arts.
Sagar and Watch Tower
To reach your destination Jaipur, you need to book your cheap flight tickets to Delhi, and then you can reach the state via train, bus, or cab. Moreover, you can get a direct flight, but if you are on tour to India, then you need to go with different transit facilities. Nestled in a splendid beauty of green mountains, Sagar and Watch Tower has two water bodies, namely, Chota Sagar and Bada Sagar. Seeing water flowing here during monsoon is pleasant.
Choolgiri Hills
It is a very pleasant and calm place to enjoy in the lap of nature during the rainy weather. This place is ideal for cycling and walking. A Jain temple is located on the Choolgiri Hills to visit, and you can enjoy the serenity of this marvelous place. Also, the temple is famous across the world. Not only you can have a religious tour here, but also you can enjoy thrilling mountains trips.
Smriti Van
Do you want to know how heaven looks like? Visit Smriti Van, where capturing the bright greens of monsoon is not everything, but a walk around the twisting tree-canopy walkways of this forest is a beautiful experience you would love to have.
Do enjoy these beautiful places by availing airfare deals such as cheap flights from Florida to Jaipur and travel for fun!