9 Must-Visit Indian Landmarks For your next Trip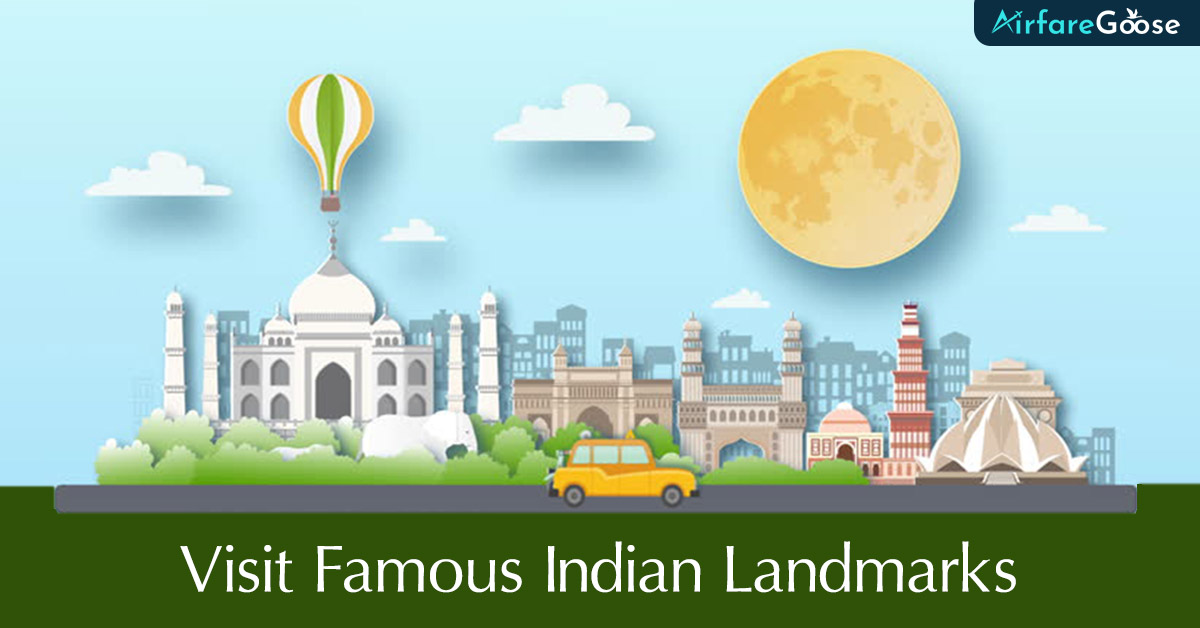 Forts, temples, palaces, tombs, gurudwaras, mosques, gardens, ruins of ancient cities or the flourishing cityscapes – name any and India has all. India is home to numerous tourist destinations and monuments. Although it is impossible to find the best among them, we have managed to name a few.
All you need to do is book flights from USA to India and get ready to explore the landmarks in this diverse subcontinent.
Here is a list of some fantastic and beautiful Indian landmarks that you can visit on your next trip to India.
1.Taj Mahal, Agra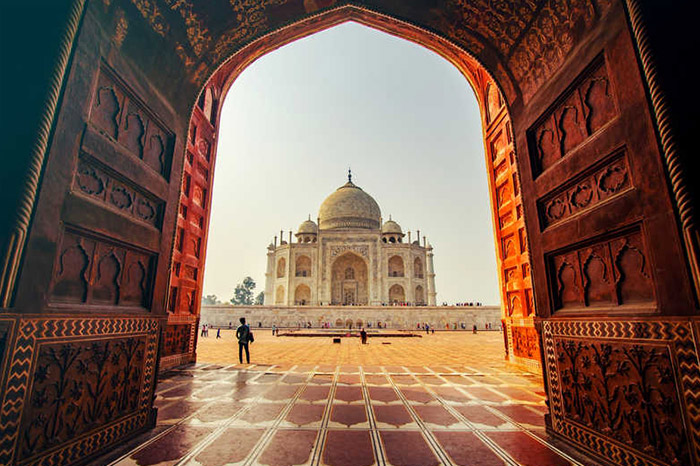 Holding its place in the list of the Seven Wonders of the World, this landmark in India is the one you should never miss. The reflection of this majestic monument in the Yamuna is a sight to withhold.
Also, the history behind its existence is a great story. It was made by the Mughal emperor – Shah Jahan in the memory of his wife, Mumtaz Mahal. This tomb is made out of white marble. What's more, it took 22 years and 20,000 workers to construct it!
Best Time to Visit: November to February
Entry Fee: $16 (Also, a discount is given on cashless payments.)
Visit Timings: It is open for the whole day – Sunrise to Sunset. However, it remains closed on Friday.
Ideal Time Required: 2 hours
Further, if you want to visit the Taj Mahal for night viewing, it remains open every full moon. (8.30p.m – 12.30a.m) Also, it is open two days before and two after the full moon. However, this does not apply to the holy month of Ramadan.
2.Golden Temple, Amritsar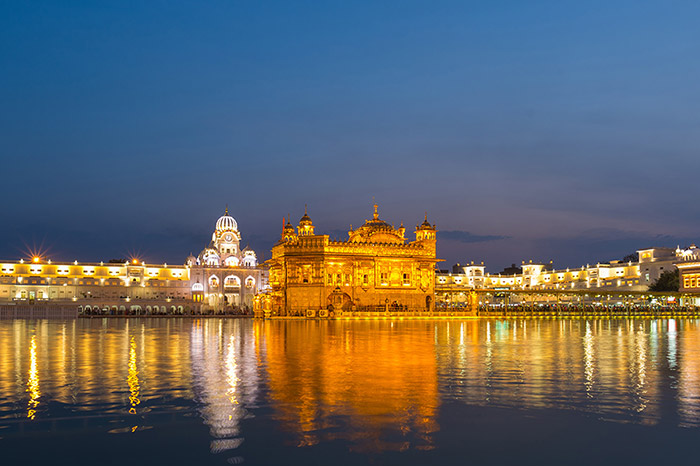 This holy Sikh shrine is made up of 750 kilograms of pure gold! Also, it is one such Indian Landmark that can compete with the Taj Mahal in terms of the most-visited place.
The Amrit Sarovar surrounds this glistening place of worship. Further, the Harimandir Sahib also has the following structures inside:
Akal Takht
Teja Singh Samundri Hall
Clock Tower
Ber Trees
Sikh History Museums
Also, do not miss out on the delicious langar. You can also find beautiful fishes swimming in the water around the Golden Temple. Moreover, you can easily find cheap flights to Amritsar from the USA.
Best Time to Visit: November to March
Entry Fee: No entry fee
Visit Timings: Open all day. However, you can pay your tribute between 04:00  AM to 11:00 PM
Ideal Time Required: 2 – 3 hours
Further, you must not miss the famous ceremony – Palki Sahib. This ceremony takes place every day. It occurs at 5:00 AM and 9:40 PM in winters and 4:00 AM  and 10:30 PM in summers.
3.Gateway of India, Mumbai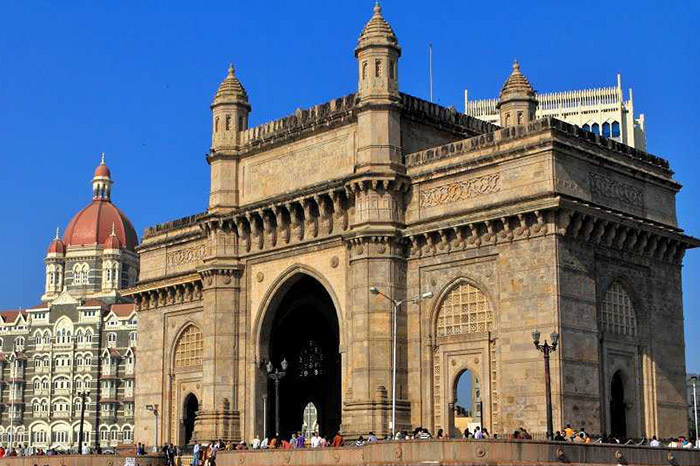 This popular tourist attraction in Mumbai symbolizes the splendor of the British-Raj in India. The impressive construction of the monument is a stunning confluence of Indian, Western, and Arabic architecture.
Also, following a similar pattern, the India gate was built in Delhi. You can find many vendors, yummy food stalls, and photographers here. Any visit to the dream city is incomplete without visiting this beautiful landmark.
When you get your flights booked from Melbourne to Mumbai, Gateway of India is a must-visit destination.
Best Time to Visit: October to March
Entry Fee: No entry fee
Visit Timings: Open 24 hour
Ideal Time Required: 1 – 2 hours
Besides, you can go for the fantastic ferry rides here. They cost between $1-2 per head. All the ferries have their start and stop at the Gateway of India only. Also, these short boat rides take you to the attractions nearby.
4.City Palace, Udaipur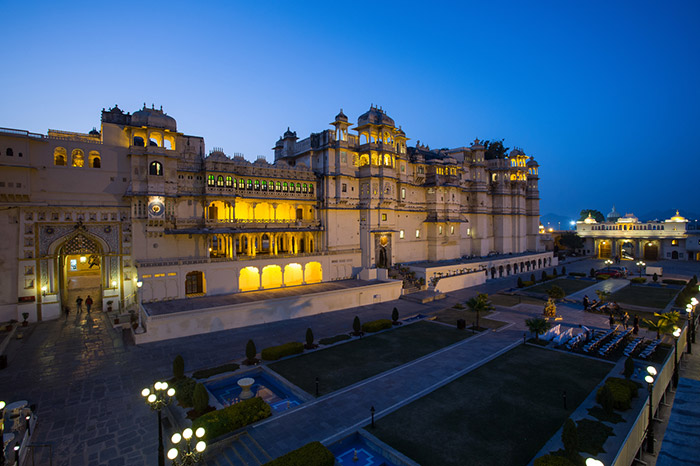 This beautiful palace lies on the banks of Lake Pichola. Also, it is the largest royal complex in the state.
Further, it has inside it Mahals, terraces, courtyards, pavilions, rooms, corridors, and hanging gardens. What's more, the palace has a museum too.
Book cheap flight tickets to Rajasthan and experience the splendor and beauty of this historic destination of India.
Best Time to Visit: October to March
Entry Fee: Adult $5, Children and Students $2
Visit Timings: 9:30 AM – 5:30 PM
Ideal Time Required: 3 hours
Further, Lake/City Palace is voted as the most romantic hotel in the country and the world.
5.Mehrangarh Fort, Jodhpur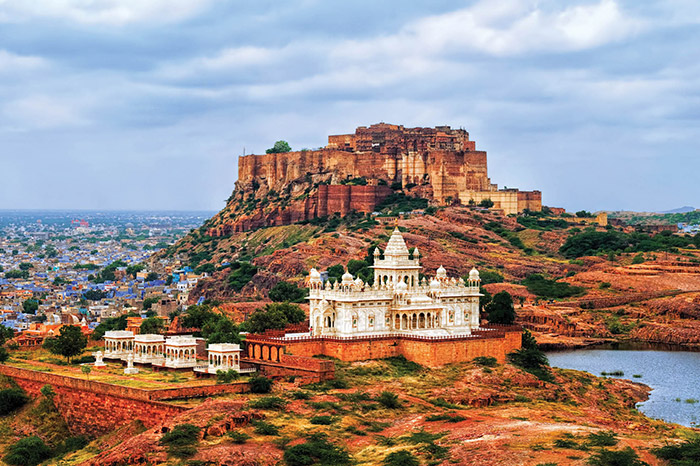 Among the largest forts in the country, it became a host to many Bollywood ad Hollywood movie shootings. Also, the famous Lion King was shot here.
The entrance of this beautiful fort is majestic. It has seven gates. These are Victory Gate, Gopal Gate, Fateh Gate, Dedh Kamagra Gate, Bhairon Gate, Loha Gate, and Marti Gate. Also, the fort hosts a museum with six galleries.
Best Time to Visit: October to March
Entry Fee: $8.5
Visit Timings: 9:00 AM – 4:00 PM
Ideal Time Required: 2-3 hours
6.Amber Fort, Amer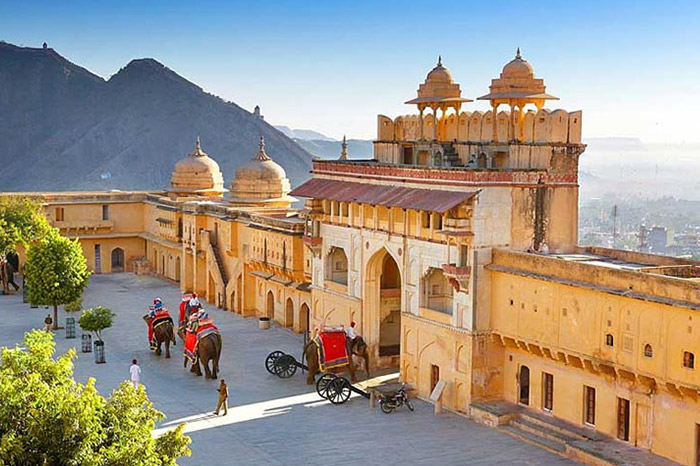 This majestic fort is also known as the Amer fort. It is an Indian tourist destination you must not miss when in Jaipur.
Best Time to Visit: October to March
Entry Fee: $3
Visit Timings: 9:15 AM – 5:00 PM
Ideal Time Required: 3-4 hours
Also, do not miss the Light Show here. Its timings are English: 7:30 PM and Hindi: 8:00 PM. Further, you can enjoy elephant rides here at just $6-7 per person.
7.Bahubali, Shravanabelagola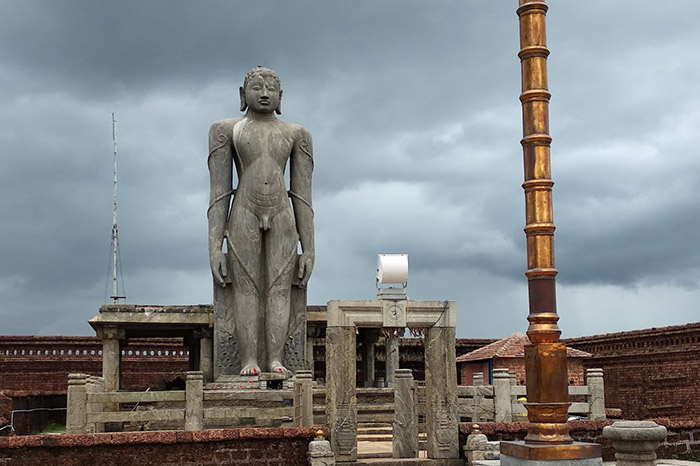 This important Jain pilgrimage center in Bengaluru is a prime tourist attraction due to this statue. Also, here the visitors need to follow a dress-code. The men have to remove their shirts to pay a visit here. Similarly, the dress code for women is to wear non-revealing clothes.
This free-standing statue depicts the time Bahubali stood still in deep introspection for a year. This shows that he had high strength and self-control. Therefore, he is considered Lord Bahubali.
Best Time to Visit: November to April
Entry Fee: $3
Visit Timings: 8:00 AM – 7:00 PM
Ideal Time Required: 1-2 hrs
8.Qutub Minar, Delhi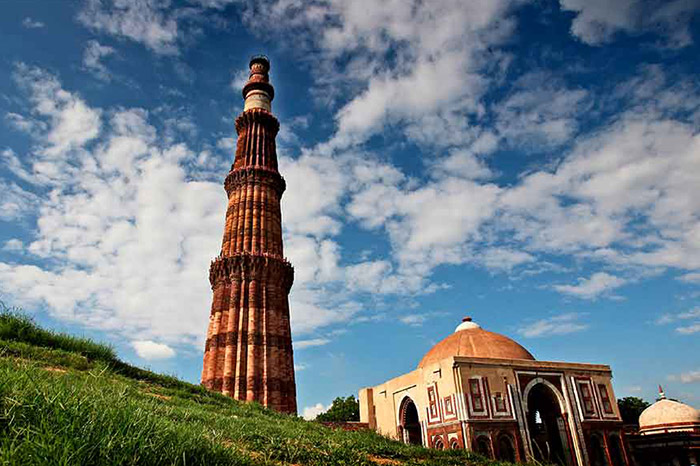 This amazing Indian Landmark in Delhi is a place you must visit in your life once. Its immaculate carvings and sky-high height are sure to leave you mesmerized.
Best Time to Visit: October to March
Entry Fee: $4
Visit Timings: 10:30 AM – 5:30 PM
Ideal Time Required: 2-3 hrs
The best part, flights to Delhi are easily available and are also cheap. Also, if you visit Delhi in November- December you can get to see the famous Qutub Festival.
9.Charminar, Hyderabad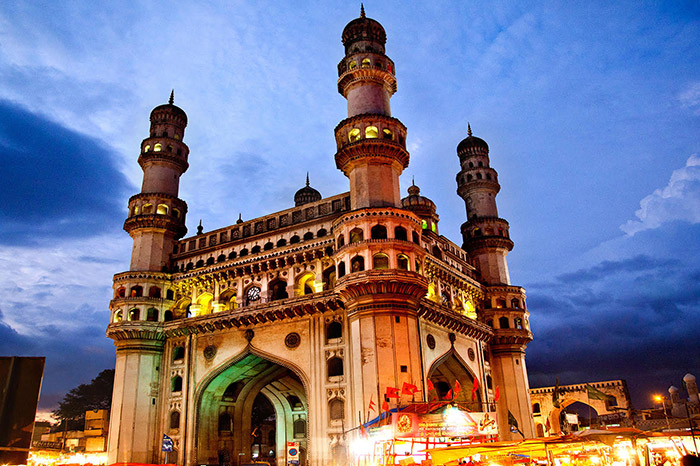 This famous mosque lies in the center of the city. It has four minarets (pillars), as its name suggests. Also, it is known for the famous Chudi Bazaar that sprawls around it. Recently, it has been included in the list of UNESCO's World Heritage Sites.
Best Time to Visit: October to February
Entry Fee: $1.5
Visit Timings: 9:15 AM – 5:00 PM
Ideal Time Required: 1-2 hrs
Further, do not miss out on the finger-licking and mouth-watering delicacies available in the market around it. Charminar is sure to leave a long-lasting impact in your hearts.
Apart from the above Indian Landmarks, the country is home to numerous other tourist attractions. You just need to choose one, find cheap flight deals to India from the USA, and get ready to get stunned.
YOU MIGHT ALSO LIKE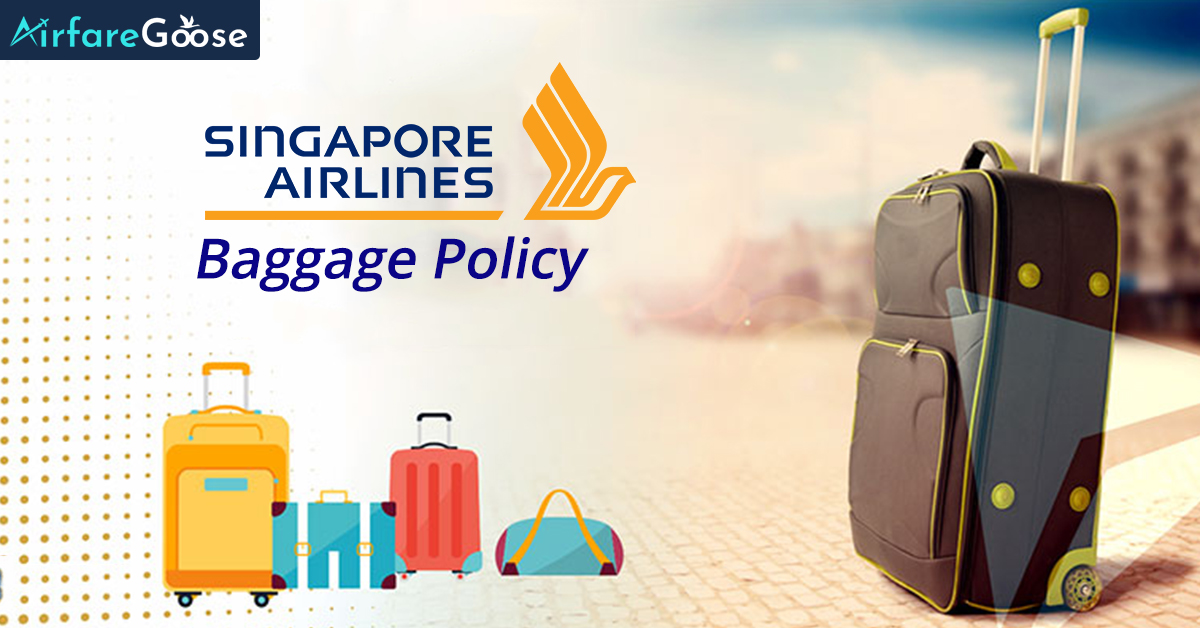 Dec 26, 2019